Covenant House Board of Directors Names Briana Martin as CEO/Executive Director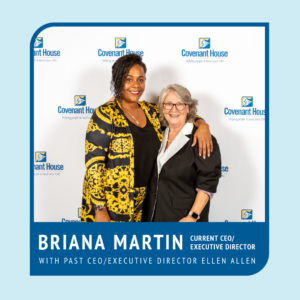 The Board of Directors at Covenant House is pleased to announce that Briana Martin has been named as the CEO/Executive Director of Covenant House. In late January 2022, the Board had voted unanimously for Martin to serve as Interim Executive Director and the Board is confident that Martin's deep knowledge of Covenant House, her unparalleled commitment to the clients and the community, and her 20 years of experience in the social service sector, will serve her well in this new role.
Before her appointment to CEO, Martin served as Program Director and previously held multiple positions at the Charleston area non-profit. She was born in Huntington and raised in Charleston and has spent two decades championing the rights of all West Virginians to access food, housing, and healthcare, and educating the general public and decision makers on the importance of these needs.
Martin has served as the Continuum of Care Steering Committee Chair for the Kanawha Valley Collective, is a recipient of Leadership Certification from the Greater Kanawha Valley Leadership Conference, a recipient of the "Giving Woman Award", and holds certifications in Tobacco Cessation Facilitation and Specialty Tobacco Training.
Justin Williams, Covenant House Board Chair, reflected on Martin's dedication to the organization by saying, "Briana's accomplishments and service to the organization and to the community have already contributed to Covenant House's 40 year legacy of reaching the Kanawha Valley's most vulnerable citizens," Williams continued, "Briana's dedication and passion for this work have laid the foundation for strong leadership and are cause for hope and optimism as Covenant House continues to serve its mission championing the rights of all West Virginians for food, housing, and healthcare.
"I believe that a true leader leads by example and in doing so, those that follow respect the process so much more." said Briana Martin, CEO/Executive Director of Covenant House, "For me, it's the people and the ability to provide resources and opportunities. That's what I love about Covenant House."
Welcome Briana as she continues to lead Covenant House on its mission to help our community's most vulnerable citizens access food, housing, and healthcare. Make a donation now to ensure a smooth transition.